Howdy,
We are super stoked to announce that Phase 1 of the massive Rattling Creek Trail System expansion is now complete after more than 18 months of almost weekly trail building. This part of the expansion includes an extension of the existing Stone Cabin trail and a new trail named Boundary which can be accessed from the East parking lot along Powell's Valley Rd.
These two trails form a lollipop style loop stemming from the intersection of Stone Cabin and Rugged trail going east. The new sections feature many difficult rock gardens, switchbacks, bridge over Stone Cabin Run and punchy climbs connected by flowing, smooth single track sections winding through beautiful pine forest. SAMBA recommends that riders follow the loop in a clockwise motion, keeping an eye out for arrows at intersections with old game/hunter trails. Come test your skills on one of the most challenging trails in the area.
NEW Stone Cabin trail=2.2 miles
NEW Boundary trail=1.42 miles
NEW Full loop=4.47 miles
NEW Full new loop + EXISTING Stone Cabin trail & Rugged trail=6.87 miles
Please understand this is a remote area and not necessarily recommended for beginners. Be aware that hunting is permitted, there is no road access and no cell phone coverage.  Riders should be well prepared and self sufficient when venturing out into this rugged area.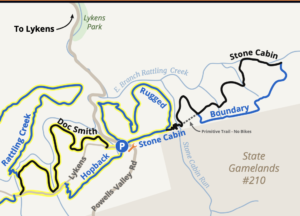 What's next? Next year SAMBA will begin the build out of two new trails as part of Phase 2 including a new access trail from Lykens and downhill return trail into Lykens Glen. Volunteers are needed to put these trails on the ground. We urge you to consider joining for a work day next year.