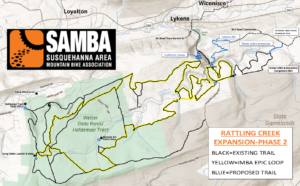 SAMBA is stoked and proud to announce plans to begin work on Phase 2 of the RCTS expansion in Lykens this month! We completed Phase 1 and opened the Stone cabin extension and new Boundary trail last October. Phase 2 includes three different trail builds that will provide:
1) New hiking/biking loop accessible from downtown Lykens.
2) Trail connection to the existing 30 miles of RCTS from downtown Lykens & Lykens Valley rail trail.
3) New 3-mile downhill return trail to Lykens on the east side and connection to Stone Cabin trail.
4) Connectivity to the Greenland tract of Weiser State Forest via dirt road
SAMBA is in serious need of volunteers to help us put these trails on the ground this year. There is plenty to do and everyone is welcome on work days, no trail building experience required. Please consider sacrificing just one morning (or more) this Spring/Summer to help us complete the next pieces of the puzzle. Please contact us if you are able to help! Cheers! https://sambabiker.com/contact/