SAMBA is super excited to announce plans for a large expansion of the awesome IMBA EPIC Rattling Creek Trail System (RCTS) near Lykens, Pa.! SAMBA's vision for the expansion will more than double current trail mileage, establish trail connections for future trail development within the Greenland Tract of Weiser State Forest, provide trail access from Lykens and Williamstown and connectivity to the Lykens Valley Rail Trail.
The project was brought forward by SAMBA's Rattling Creek Trail Liaison Joshua Watts who recognized the potential to make the already EPIC trail system even bigger and better. After nearly two years of research, outreach, advocacy, brainstorming, meetings, presentations, e-mails, phone calls, trail design planning, field checking, negotiations, insurance updates, land owner agreements, approvals, etc., etc., we are ready to start with initial trail corridor clearing in the coming weeks. We expect to have new trails on the ground later this year. This extensive project will continue for several years and has been broken into phases based on priority, feasibility and logistics.
PHASE 1-New full loop at eastern end of RCTS (shown in orange)
Connects Stone Cabin Trail to Berry Mountain Road linking RCTS to the Greenland Tract of Weiser State Forest.
Provides connection for new Lykens trails in phase 2
Requires two new bridges
Approximately 4 miles
PHASE 2- Lykens Glen loop trails
New climbing trail from Lykens Glen Park provides connection to Rattling Creek Trail (shown in green)
New downhill-specific return trail to Lykens Glen Park establishes full trail loop from Lykens (shown in yellow)
Rider welcoming center may be possible in Lykens
Focus on Lykens economic development opportunities with recreation and tourism
PHASE 3- Connectivity
Short on-road connections from RCTS to Lykens Valley Rail Trail at Lykens & Williamstown
Road facilities and crossings to be determined by Penndot and local municipalities
PHASE 4- Greenland Tract of Weiser State Forest trail network development
Working in partnership w/ DCNR to develop Greenland tract trail network
10-20 miles of new trails possible (tract shown outlined in dotted black line)
SAMBA is a 100% volunteer organization and we need your help to accomplish these goals and complete this project. Volunteer opportunities will be posted to our Social Media as soon as we are able to host group work sessions again (hopefully soon). Contact SAMBA to get involved with the Rattling Creek Trail Committee or ask questions here: https://sambabiker.com/contact/
We will be launching fundraising opportunities in the coming weeks. Make a direct contribution to help with costs for building materials, trail markers, signage etc. here: https://sambabiker.com/donate/
Huge THANK YOU to the original Rattling Creek Singletrackers, all the BASHers, Keith W., Rick & Jill, Shawn W. and everyone that's contributed to the Rattling Creek Trail system over the years! We are looking forward to getting started and seeing everyone out on the trails soon.
Cheers!
SAMBA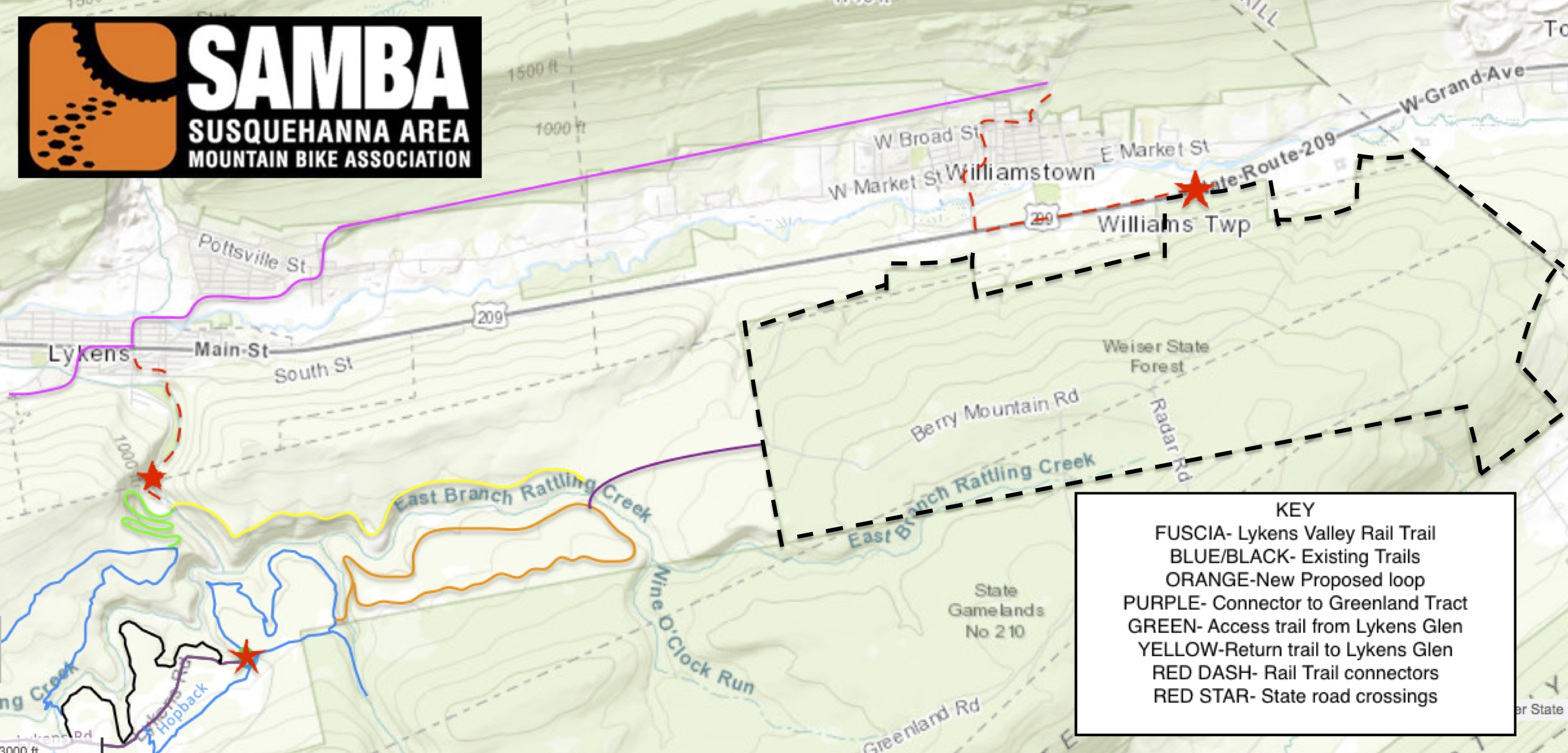 Above: SAMBA's concept design plan illustrates new trails areas, road crossings, connections to towns, Rail Trail and Greenland tract (black dotted line). Note: Concept design does not represent actual GPS tracks for new trails.
Below: Current Rattling Creek Trail System with Greenland tract shown to the East