Howdy, We realize that Camp Mack has been a part of the mountain bike culture in Central Pa. for decades and we were all devastated by the sudden closure last year. After several months of negotiations with the Pa. Dutch Council, we are thrilled to announce that we have a fully executed agreement to allow the return mountain biking at Camp Mack later this Fall! But before we can open Camp Mack to bikes, we need your help to trim and clear the trails and make improvements.
We will not be opening the trail system until clearing and improvements are complete.
Look for work days starting on August 16, and come out and help us get bikes back at Camp Mack! Work days will be posted on our social media as Events. As you have probably heard, some of the trails have been damaged due to logging, and many are simply grown in and are not rideable. Additionally, new rules are in place regarding hunting season and areas permanently closed to bikes. We will be installing signage to direct riders to the trails and away from the main camp area, and to identify dates the trails will be closed.
Year-round no bike area
: The main camp area previously closed during summer scout camp is now closed to bikes year round. The boundaries for this area are General Strickler Rd. uphill from North Valley Trail, Pool Rd. uphill from Forge Hill Trail and all areas past the big gravel lot. See map.
Access to trails from 501:
Access is still permitted to the trail system from the 501/Camp side. The trails may be accessed via South Camp Rd. at the Training Center.
Hunting season closure:
Camp Mack will be closed to bikes for one continuous period during hunting season. Roughly from October through January. During this period, riding on non-hunting Sundays is permitted. Night riding also permitted during this time. Look for specific dates and signage on the property in the near future.
E-bikes not permitted:
The BSA does not permit use of E-bikes at Camp Mack.
Night riding permitted
: Approved starting 30 minutes after sunset, year round.
Your cooperation with these new rules is vital to maintaining mountain bike access at Camp Mack and we are looking forward to seeing bikes back on the trails at the Camp this Fall!!!
Follow link for an updated map of the Camp illustrating areas closed to bikes and locations of new signage:
CAMP MACK MAP[3510]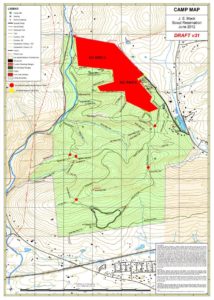 Thanks for your patience and support, SAMBA