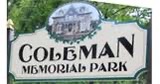 SAMBA is thrilled to finally be able to announce that a new trail is coming to Lebanon City at Coleman Memorial Park! After nearly two years of negotiations with the City of Lebanon and the Board of Trustees of Coleman Park we have been able to reach an agreement to build a new two mile trail around the perimeter of the park.The design will be focused for kids and beginners but still fun for an experienced rider to enjoy.
The pump and jump tracks have been wildly popular since opening last Fall and the addition of the new trail really creates an attractive option for families to enjoy a day in the park with their bikes. We envision that Coleman Park will develop into a fabulous place for little kids and big kids alike to develop bike handling skills and trail riding techniques to help build confidence and prepare for more challenging options on trails at places like Mt. Gretna, Camp Mack, HMC, Parkway HBG or Rattling Creek. SAMBA plans to eventually launch a program to help facilitate skills clinics for all riders in the future and Coleman Park would be a terrific place for such events. Please reach out to SAMBA if you are interested in helping!
As is the case with all trails SAMBA has designed and built, the trail will be intended for shared-use and hikers/trail runners will be directed to travel in the opposite direction of the cyclists to help promote a positive trail experience for all.The new trail will double the existing mileage of hiking trails in the park and a new connector trail extending from Coleman Park over to Tunnel Hill Park and the Lebanon Valley Rail Trail is also being proposed for 2022.
Trail construction is scheduled to begin in October. Please watch for work days on our calendar or social media and contact us if you are interested in helping with the building of the trail and/or future maintenance.
Thanks,
SAMBA