Howdy,
We are excited to announce the opening day for the new trail in beautiful Coleman Memorial Park in Lebanon! The new trail is a fantastic addition to the park providing great opportunities for all riders along with the pump track and jump lines. After working to develop the trail for more than two years followed by many months of volunteer work in the park, the new shared-use trail around the perimeter of the park will be officially opened to the public on October 29 at 11 am following ribbon cutting ceremony with Lebanon City Mayor Capello. Our partners in Lebanon have scheduled a Bikes n' Bites event from 11-3 which will feature trail tours, pump track demos, food trucks and lots more bike related activities. Come on out and bring the kids for a great day in the Park riding the new trail and the Pump tracks. Trail map coming soon. Please see link and event flyer below for more information.
The opening day events will kick-off at 9 am with the Pennsylvania Interscholastic Cycling League (PICL) hosting a "Local Dirt" race event organized by the Lebanon Valley Mountain Bike team with teams representing Hershey/Dauphin County, Elizabethtown and Susquenita joining and more than 100 kids expected to participate! Come out to experience youth mountain bike racing, understand the value of community trails and learn more about local youth cycling with PICL and volunteer opportunities with SAMBA.
From PICL: Local Dirt is making what works in youth sports, work for youth mountain biking. When researchers ask present and past student-athletes, time and again they find that it is the 'getting to do this sport with my friends' that is the most important, most memorable, and most impactful piece of youth sport. What kids say is most important to them is what led our creation of the format and guidance for Local Dirt.
A safe, fun, appropriate, simple event that gathers riders and families together for a couple of hours on a weeknight or evening. Just fun racing with high fives to celebrate.
A crew who is trained on NICA protocols for event production. We don't have a ballfield or sidelines to guide us; training and consistency are key.
We create connections between riders and families — we all love this, let's recognize and celebrate that together!
We are not limited by competition – adventures, GRiT, TTC and more are really great themes for Local Dirts.
Local Dirt is your everyday grassroots youth sports weeknight event happening all over the world, made for mtb.
PICL and Local Dirt info: https://www.pamtb.org/local-dirt
Bikes n' bites info: https://www.facebook.com/events/429023825864970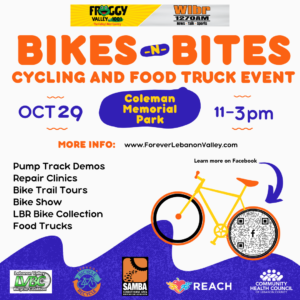 click thumbnail to enlarge