SAMBA is a 501c3 non-profit, 100% volunteer organization that values and appreciates every minute that our volunteers contribute to help make things better for all mountain bikers in our region and beyond. Huge Thanks to all that volunteered in 2022. Each year we recognize the three individuals that logged the most volunteer hours and made the biggest contributions to the organization as part of our Volunteer Appreciation Program. This year we were fortunate to have had so many incredible volunteers doing such great work in various roles that we must expand our list and let everyone know about the outstanding contributions that have been made and the folks that inspire us to do more.
SAMBA TOP  VOLUNTEERS OF 2022: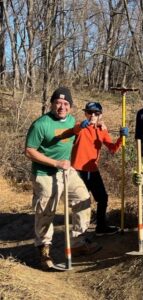 #1 Martin Gamez was the most consistent and versatile trail volunteer in 2022 logging work days as a committee member @ Parkway Trails but also contributing @ Rattling Creek, Coleman Park & Trails and Trees builds. Martin (pronounced Mar-teen) is usually the hardest-working volunteer on a given work day and is always ready to tackle any trail building or maintenance needs with a big smile on his face. He completed chainsaw operator training this year, often leads work crews, volunteers at SAMBA events and also teams up with his son Matteo on work days!  Thank You Martin!
#2 Joe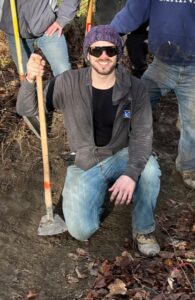 Sopczynski began volunteering at the Trails & Trees build in Mechanicsburg where he was a consistent and hard-working crew member that helped bring the project to completion in November. Joe's videography skills became obvious during the process and we enlisted him as a Communications Committee member to help promote SAMBA's projects and trails through video in 2023. Joe even became a member of the Parkway Trail crew where he has already made big contributions to the recent "Tune-Up" efforts. Thank You Joe!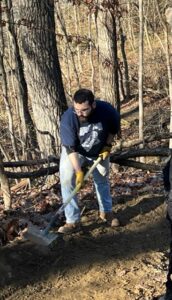 #3 Nick D'Agostino started working as a consistent volunteer up at Rattling Creek throughout the year and then also joined the Parkway Trail crew where he has made great contributions and logged substantial volunteer trail work hours as well. Thank You Nick D!
OUTSTANDING CONTRIBUTIONS:
Jason Minnich is a physical educator for the Mechanicsburg Area School District that brought forward the Trails & Trees project and then functioned as the liaison between SAMBA and the School District during the entire process. He also contributed many hours helping with the build out, lead work crews, coordinated the opening day events and will be involved with future improvements and upgrades.Thank You Jason!
Steve Cline does amazing work with GIS, mapping and our trail app. This year he created the new maps for Trees & Trails Environmental Center & Coleman Park and updated maps for Camp Mack, Rattling Creek & HMC. Steve also created and maintains SAMBATRAILS.BIKE which is the most accurate and current trail app for trail areas where SAMBA is involved.Thank You Steve!
John Wolf initially got involved as a volunteer at Coleman Park then eventually worked to migrate SAMBA's operations to a new shared work space and coordinate various efforts to upgrade the organization's infrastructure for file sharing & storage, meeting space, email and other communications both internal and external. Thank You John!
Ryan Ream was already busy as Director for the pump tracks and then worked throughout the year to keep the new trail build on track @ Coleman Park even on days when there were no volunteers to help. The new trail wouldn't be open yet without Ryan's efforts and dedication. Thank You Ryan!
Ashley Euler stepped up to become the new Director of Events, immediately expanded the committee and then escalated our efficiency and communications surrounding Event planning and execution, taking the Events committee to the next level. Thank You Ashley!
Lyle Beidler became the new Trail Director for the Ephrata Bike Park and has already coordinated major improvements to the pump track and other improvements with more to come in '23. Lyle is also working to investigate new MTB opportunities in the Ephrata area. Thank You Lyle!
SAMBA is always in need of volunteers and there are many ways to contribute. For 2023 we are in serious need of ride leaders, communications and social media coordinators, skills clinics and rider education coordinators, trail committee members @ Rattling Creek and more. Please contact us if you would like to learn more about ways that you may be able to help.
https://sambabiker.com/contact/