Please mark your calendars for September 7th-10th 2017!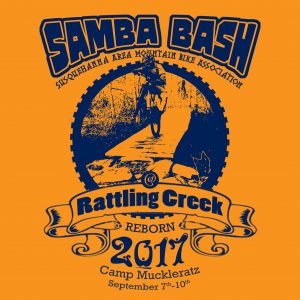 Join us for a Wild Weekend of fun in the Weiser State Forest!  Enjoy the rocks of Rattling Creek singletrack, an IMBA EPIC, all weekend long with old and new friends.  End your Friday with a Chili Cookoff contest and micro brew swap.  Saturday will have guided tours of the trails for all abilities and end with a dinner, beers, and entertainment.
Click here to register now!
Event Details:
Where:  Camp Muckleratz 2749 Game Lands Rd, Halifax, PA 17032
Time:  7pm Thursday – 4pm Sunday
Cost: $45
Space is limited – Register early!
Included in your admission:
Guided rides or suggested routes on the Rattling Creek Singletrack
Primitive camping for 3 nights
Breakfast coffee and bagels each morning
Chili cookoff contest Friday evening.  Big prizes for top 3 chili makers.
Dinner on Saturday Evening ( You will receive a voucher for a half chicken BBQ or pulled pork sandwich, side, and beer)
Live Entertainment on Saturday evening
An entry into the big SWAG Drawing
Friday Night Chili Cook-Off.  Bring a pot of your best Chili to share and be judged, prizes to be awarded!